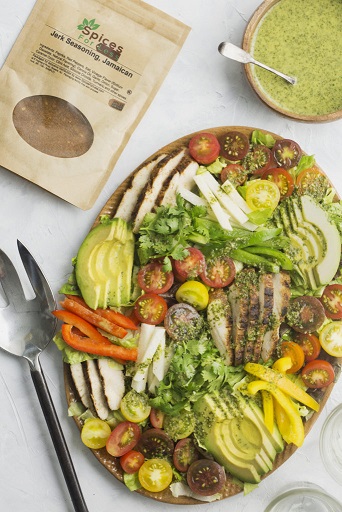 by Chef Eitan Bernath
Today I have teamed up with my all time favorite spice company, SpicesForLess.com, to give you this gorgeous Jamaican Jerk Chicken Salad recipe! Their Jamaican Jerk Seasoning really stuck out to its to me because its deep and complex flavors. All you have to do is slather the spice mix onto some chicken, add a little oil, then it is ready to be grilled. You end up with a super flavorful chicken with minimal effort. I then turned this idea it into a whole meal adding it as the protein to a salad filled with all the good stuff like heirloom grape tomatoes, jicama, avocado and more. I had a blast cooking and styling this dish and you will too!
Ingredients
For the Salad Dressing:
1 garlic clove
1 tablespoon honey
1/4 cup freshly squeezed lime juice
1 cup cilantro
1/4 cup vegetable oil
Salt and pepper
For the Jerk Chicken:
2 lb boneless skinless chicken breasts
2 tablespoons vegetable oil
2 tabelspoons "Spices For Less" Jamacian Jerk Seasoning
For the Salad:
2 cups salad greens
1 avacado, thinly sliced
2 cups heirloom grape tomatoes, halved
½ cup cilantro
½ cup jicama, cut into 2 inch matchsticks
1 cup assorted peppers, sliced
Instructions
For the Salad Dressing:
In a food processor, blend the garlic, honey, lime juice, cilantro, and vegetable oil. Season with salt and pepper, to taste.
For the Jerk Chicken:
In a large bowl, marinate the chicken breasts in the vegetable oil and jerk seasoning for at least 1 hour. Grill the marinated chicken for 6-8 minutes per side, until fully cooked. Slice right before serving.
For the Salad:
On a large serving platter, arrange the lettuce with piles of the chicken, avocado, heirloom grape tomatoes, cilantro, jicama, and assorted peppers. Serve with the salad dressing.
(cookwithchefeitan.com)