About Jerk Seasoning, Jamaican
Product Info:
The term 'jerk' comes from the Spanish 'charqui,' the flavorful dried or grilled meat made in the Caribbean over open flames. Originally used mainly on pork and goat meat, Jamaican Jerk has become wildly popular on any kind of meat or meat replacer, but especially chicken. Our Jamaican Jerk Seasoning imparts all the key flavors of 'charqui' like allspice, thyme, and of course, chiles. This sweet-hot-tangy mixture is sure to make your mouth water and add excitement to any dish.

Suggested Use:
Add to chicken, fish, beef, sausage, and tofu before grilling.
Ingredients:
Paprika, red peppers, vinegar flavor (sodium diacetate, natural flavoring), canola oil, garlic, onion, salt, sugar, caramel color, citric acid, silicone dioxide, turmeric, mustard and other spices.
Basic Prep:
Ready to use, add to recipe as desired.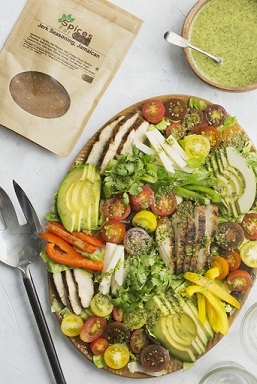 Jamaican Jerk Chicken Salad Recipe by Chef Eitan Bernath